Along the north coast, just before Lovina, you will come across signs to an inland town named Banjar.  Although, sounding like something out of Star Wars, its actually a place famous for its natural hot springs.    There are 3 or 4 such places dotted around Bali.

As you follow the signs towards Banjar, you will notice the roads becoming narrower and more chaotic with all sorts of traditional village life.  The thing to look out for is this sign "Air Panas", which must be Balinese for Hot Spring.
After more winding roads you will end up at a parking lot with a lot of activity nearby.  There is a ticket booth followed by the usual gauntlet of tourist shopping stalls.  The cost of entry is a very reasonable 5000 rp, with some additions for a locker and parking.
The hot spring at some point in time has been turned into a very comfortable set of baths complete with fountains, and seating areas.  The water in all pools is a nice jacuzzi type temperature and one of the pools has a depth down to 2m so you can even swim in it.
On all sides you are surrounded by lush tropical greenery and it is a most pleasant experience.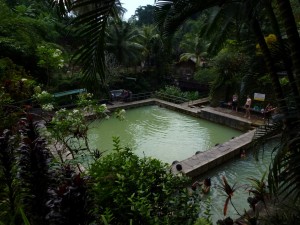 The only downside is the few local boys and men who hang out there to catch a glimpse of all the foreign babes in their bikinis.   If you are a cute girl in a skimpy bikini, don't be surprised if you're snapped on a cell phone or even asked to pose.